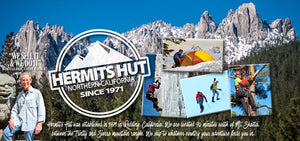 Hermit's Hut was established in 1971 in Redding, California. We are located 90 minutes south of Mt. Shasta, between the Trinity and Sierra mountain ranges. We ship to whatever country your adventure finds you in.
This place is awesome! I am an avid hiker and aspiring mountaineer. The customer service at this place is unmatched. They truly care about the safety and well-being of their customers. They only recommend the best!

Samuel F.
If you want outdoor gear that will last, this is the place to go... it's pretty much the only place we consider when we need camping equipment. Dan & Bob are definitely experts...

Tyler S.
Great local shop! The staff are very knowledgeable about all kinds of gear and the owner tends to give people deals. Very glad to have discovered this place. Way better than going to a giant outdoors store.

Samuel B.
A Few Brands We Carry: